Caddx Kangaroo 1000TVL Nano FPV Camera - Choose Your Color & Lens
In Stock
Pre Order
Coming Soon
Caddx's new nano (14x14mm) size fpv camera comes equipped with an optional shell that slides over the sensor housing to make this nano cam micro compatible! The Kangaroo features the same great Sony sensor as the Caddx Ratel, but in a smaller form factor. 
The Kangaroo is available with a 7g glass lens or a regular 2.1mm lens. 
The lens module is black. The module cover comes in black or white.
Check out all our Nano FPV Cameras, and all our CADDX gear!
Features
Color: Black, White (Optional)
Aspect Ratio: 16:9 & 4:3 changeable
No jello, Extemely low latency 4ms
Built-in OSD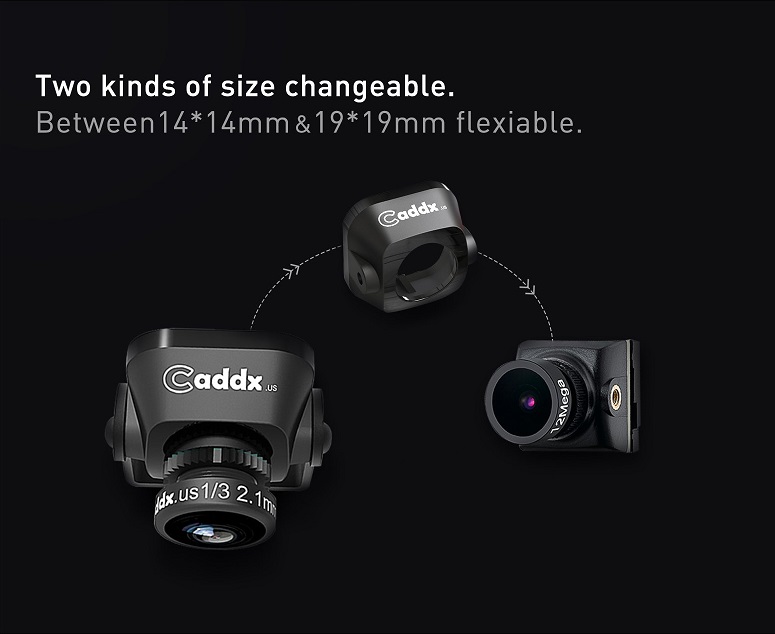 Specifications
Image sensor: SONY STARVIS sensor
Horizontal: 1000TVL
TV system: NTSC & PAL chanegable
WDR: Super WDR
Lens: 12M 78G lens
Mini Illumination: 0.001lux@F1.8
Sychronize: Internal
Electronic shutter: PAL: 1/50~100,000; NTSC: 1/60~100,000
Signal to noise ratio: >60dB (AGC OFF)
Video output: CVBS
Camera OSD: Progress menu
Fly OSD: Support
DNR: 3-DNR
Language: ENG/ Frange/ RUS/ SPA/ PU/ Korea/ CHN/ JAPAN
Morning and evening: Auto/ Color/ Black & White/ EXT
Dimension: 14*14mm (expand to 19*19mm)
Wide power input: DC 3.3-5.5V
Operating temperature: -20℃~+60℃
Working humidity: 20%~80%
Net weight: 3.5g (more or less)
Includes
1x Caddx Kangaroo 1000TVL Nano FPV Camera
1x Sensor Module Cover (Black or White)
1x Accessory Set
1x User Manual