RunCam Split 3 Micro FPV Camera / 1080P 60 FPS HD DVR
In Stock
Pre Order
Coming Soon
Runcam improves the Split yet again. This time around fitting it with a stronger for flexible wrapped cable and optimizing the TV out (FPV feed) to reduce unwanted ripple effects. Available in Micro and Nano Versions. (Nano Coming Soon)

This is the Split 3 Micro with 20x20mm PCB and Micro sized sensor module. We also carry the Split 3 Nano with 20x20mm sized PCB and Split 3 Nano Whoop with a 25x25mm PCB.

Check out all our HD cameras and all our RunCam gear!
Features
Low Latency TV Out
Power Off Protection for Video Files
Optimized TV Out Interface to Reduce Ripple Effect in Picture
Wide Input Voltage (5-20V)
Strong Flexible Ribbon Cable
Switchable Aspect Ratio
Easy Installation
Modular Design
Old vs New:

Specifications
Field of View(FOV) Recording FOV 165°(FPV FOV: 165 ° @16:9, 130 ° @4:3)
Video Resolution 1080@60fps/1080@50fps/1080@30fps/720@60fps
Video File Format MOV
Image Resolution 2 MP
TV Mode NTSC (720*480)/PAL (720*576) Switchable
Interface JST 1.25mm / UART
Max Micro SD Card Supported 64G(need Class 6 or above, recommend Class 10/UHS-I/UHS-II/UHS-III)
Hole Distance of Installation 20*20mm
PCB Size 29*29mm
Lens Module Size 19*19mm 
Lens Specs M12 M8
Power Input DC 5-20V(Non-direct power supply from battery. Powered direcly with battery will generate surges and burn the camera.)
Working Current 650mA @5V / 270mA @12V
Weight 14g 10.5g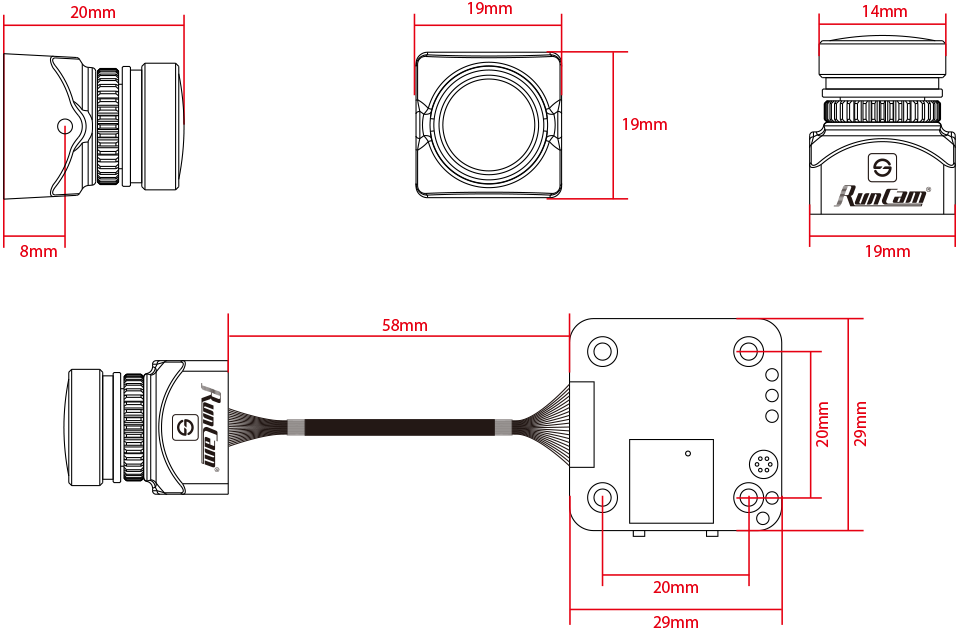 Includes
1x RunCam Split 3 Micro FPV Camera
1x 19 to 28mm Bracket
1x Plastic SD Card Pro
1x 3 Pin JST Cable
1x M2 Screw Set
1x Manual