NameLessRC Nano400 Micro 25-400mW VTX - U.FL
In Stock
Pre Order
Coming Soon
NameLessRC's next release is an incredibly powerful and compact 5.8GHz VTX.
As small and light as possible (1.5g WITH wires & antenna), there's not even a button on this thing. Band, Channel, and Power settings are all handled by an IRC Tramp protocol connection. The VTX itself weighs in under 1 gram! 
Check out all our micro VTXs and our NameLessRC gear!
Features
Lightweight & Compact Design
High Output Power
Pit Mode
IRC Tramp Protocol Control
Specifications
Output Power: Switchable PIT / 25mW / 100mW / 200mW / 400mW

Control Mode: BFOSD Control (RX) -Input Power: 5V

Video System: NTSC / PAL

Antenna: U.FL

Size: 12.4mm 12.4mm 3.5MM

Weight: 0.7g

Frequency: 5.8 GHz 6 bands 48 channels, with Raceband: 5362-5945 MHZ
Nano400's factory set up is on lock mode(25mW & 5733-5866MHZ). Please
follow your local laws and regulations if you need to unlock the frequency.
See user manual or below for unlocking instructions.
Includes
1x NameLessRC Nano400 Micro 25-400mW VTX - U.FL
1x Dipole Antenna
1x Wire Set
Unlocking Channels and Output Power
The Nano400 is locked to 25mw by default, and locked out of the channels marked in red.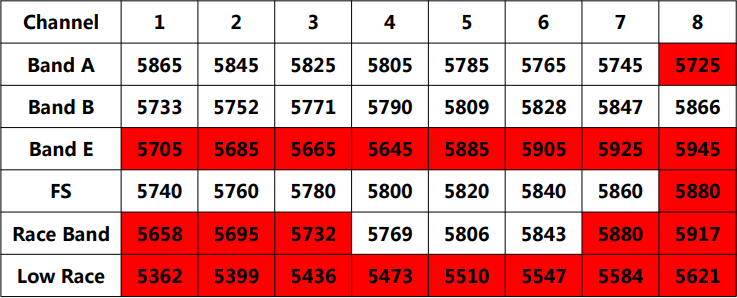 The NLRC Nano400 VTX is set up via BFOSD Control (IRC Tramp)
To lock/unlock the VTX channels, please enter the PIT mode for three times within 30secs after powering up the VTX.
(Set up a pit mode switch in betaflight configurator's mode page). The 3 LEDs will flash one by one if unlocking is successful. Please re-power the VTX after this step.