Flywoo BNF Explorer LR 4" Deadcat HD 4S Quad w/ Walksnail Avatar V2 & Avatar Micro Cam V2 - Choose Your Receiver
Original price
$389.99
-
Original price
$404.99
In Stock
Pre Order
Coming Soon
This Flywoo BNF Explorer LR 4" HD 4S Quad comes with Walksnail Avatar V2 & Avatar Micro Cam V2, giving you buttery smooth and stabilized video performance. The advanced quadcopter technology lets you take your FPV adventures to new heights! Choose your receiver between ELRS 2.4GHz and TBS CRSF 915 Mhz for a secure flight. Enjoy the unparalleled performance and take your FPV adventures to new heights with this cutting-edge technology! This long range quad is a small efficient cruiser with a deadcat design eliminating props in your view, perfect for the elite capabilities of the Walksnail system.
Be sure to check out our Bind-n-Fly collection and our Walksnail Compatible Quads and Electronics as well as other great products from Flywoo!
Features
Compact and lightweight design, weighing less than 250g even with the battery

Long flight time of up to 30 minutes
User-friendly controls for easy operation

Support 1080P 120fps Recording

Latency Average Delay 22ms
Walksnail Avatar V2 Kit 8G ( Camera & VTX)

Walksnail WS-M181 GPS: Featuring the u-blox M10 platform UBX-M10050 GNSS chipset and BUILT-IN QMC5883 MAG, the module offers stronger performance and more accurate positioning.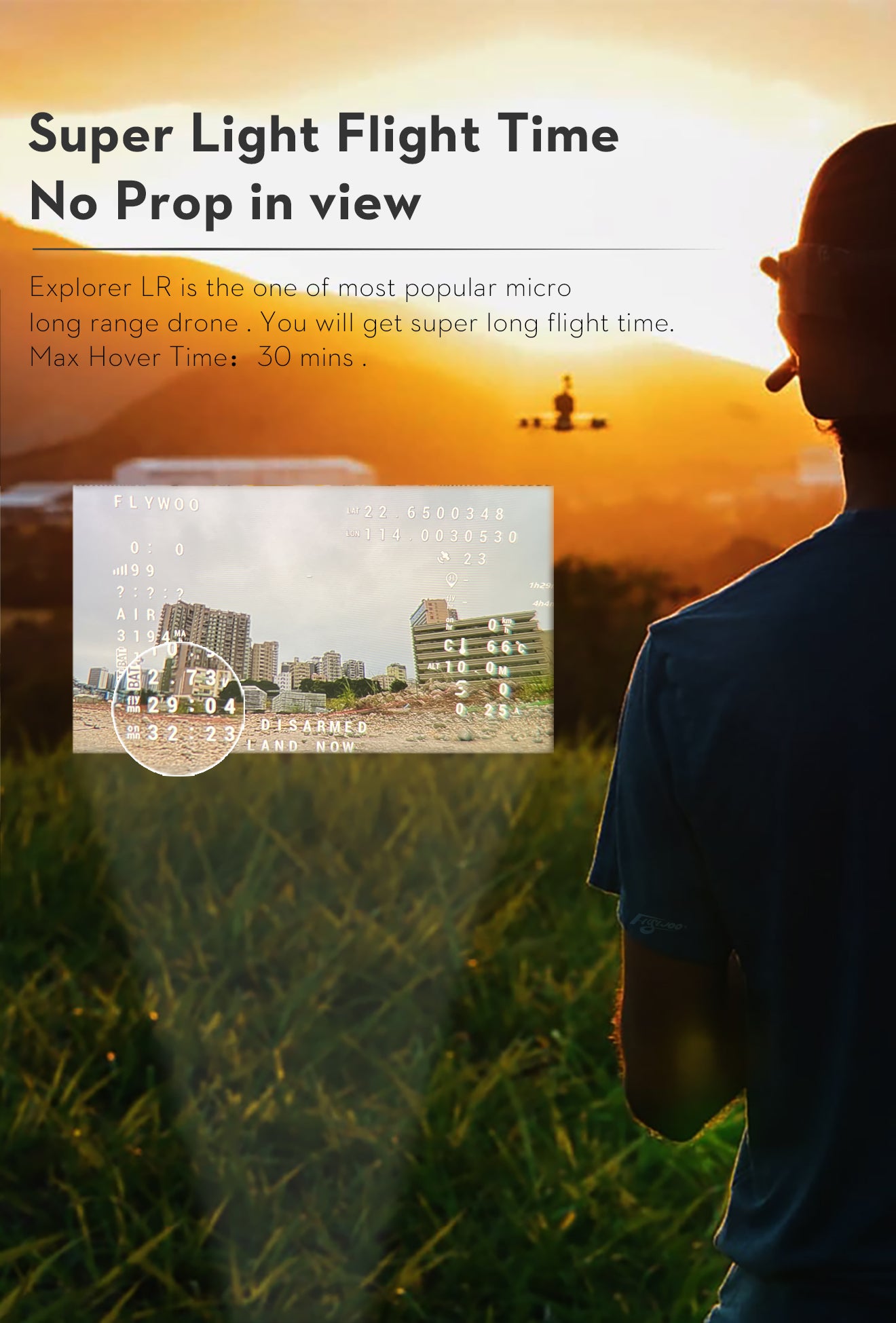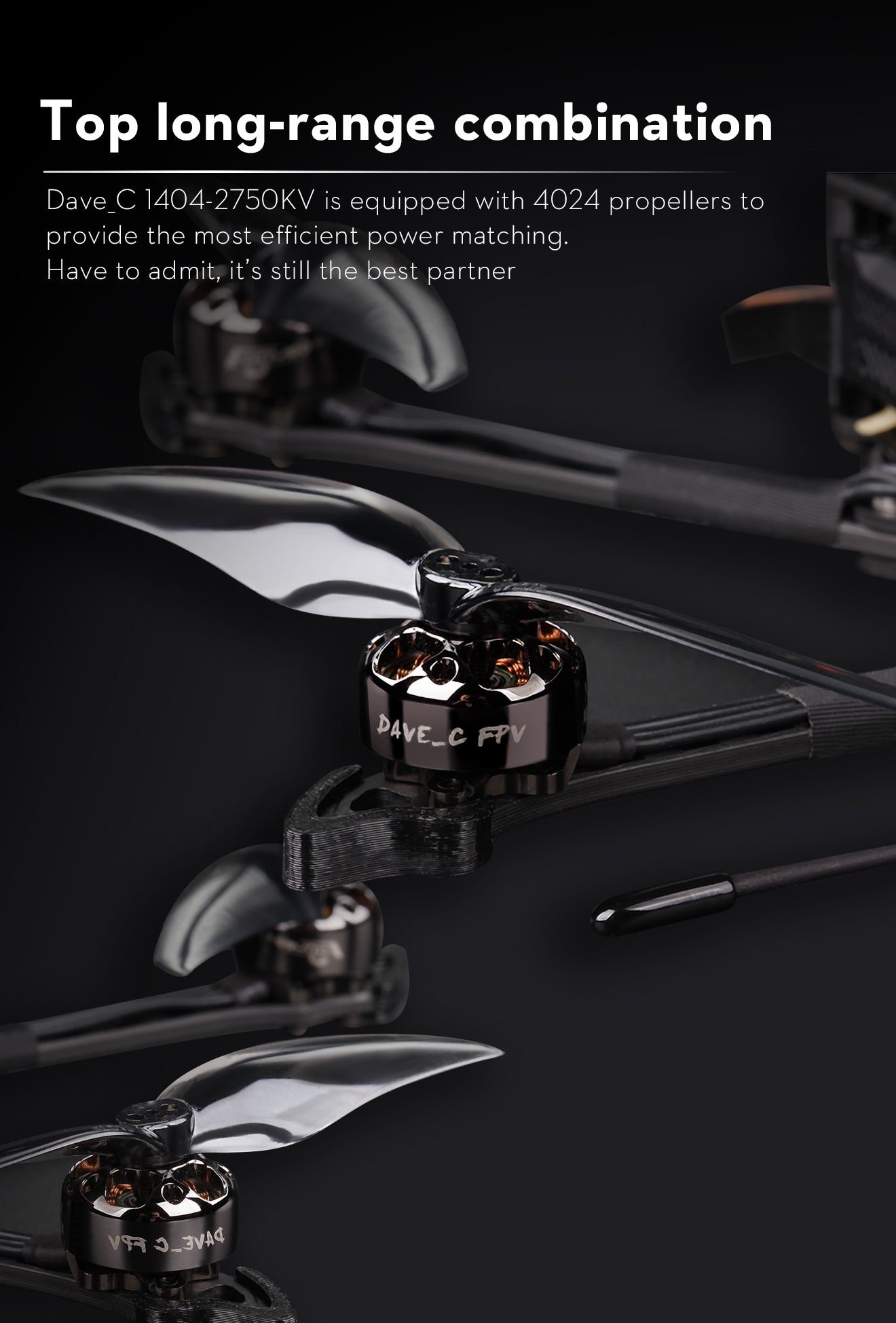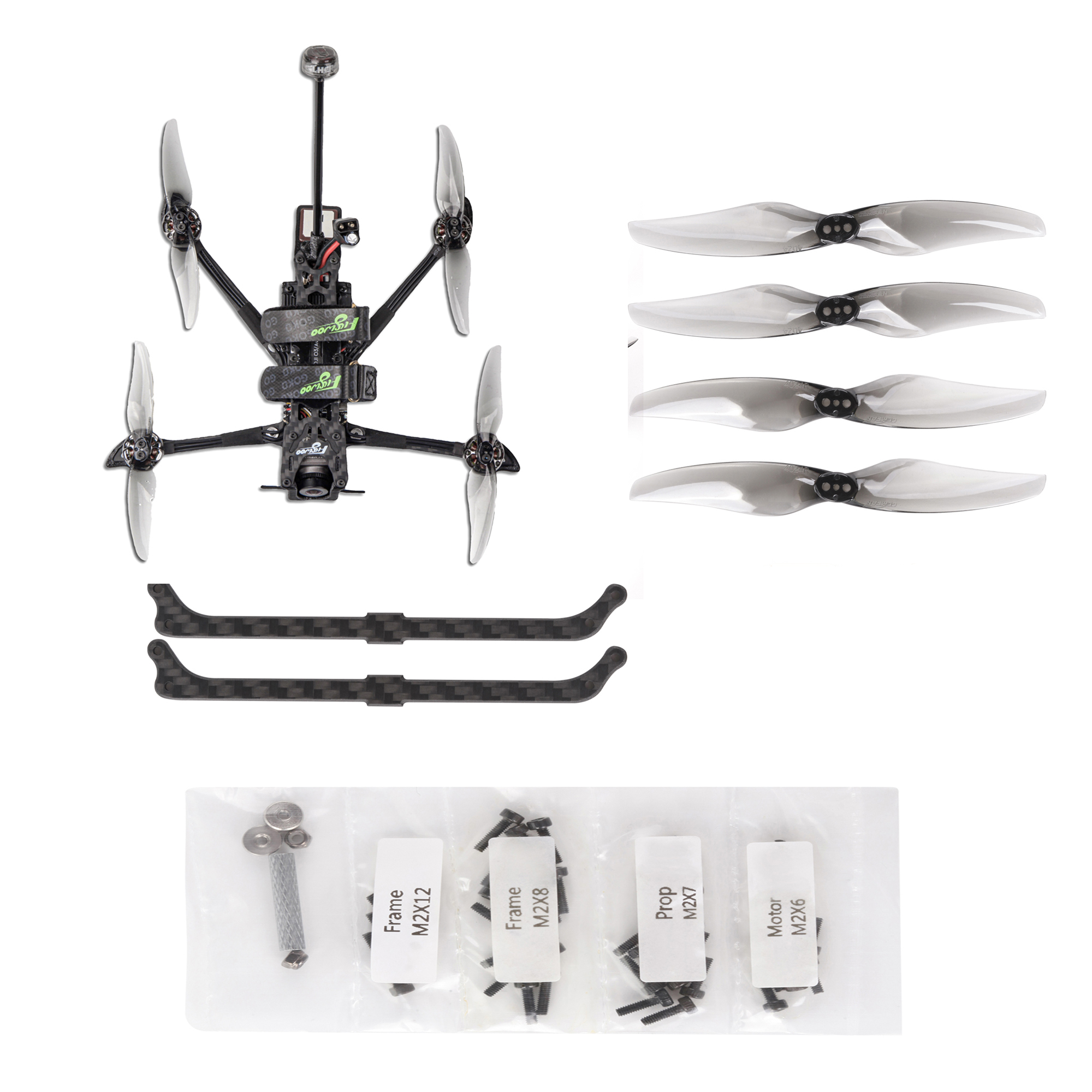 Specification
Model: Explorer LR 4 HD Walksnail Sub250 Micro Long Range

Brand: FLYWOO

Frame: Explorer LR 4 HD Walksnail Frame kit

FC and ESC: Goku Versatile F405 Pro Mini Stack ( F405 FC+ 40A ESC )
VTX & Cam: Walksnail Avatar HD Kit V2 (8G)

Propeller: Gemfan Hurricane 4024 2

Weight: 168.4g
Flight Controller Specifications

MCU: STM32F405BGA
GYRO: ICM42688P
UARTS: 1/2/3/4/5/6
I2C: SCL/SDA
Barometer: BMP280
BEC: 5V 2A / 10V 2A
Blackbox: 16M
Input Voltage: 2-6S
Firmware: FLYWOOF405PRO
Mounting: 20x20mm M3 / 30x30mm M4
ESC Soft: Dshot300/600
ESC Telemetry: Yes
LED Controller: BF LED
F.Port: Yes
RSSI: Yes
Buzz: Yes
Input: 2~6S Lipo (8.4~25.2V)
TVS Protection: Yes
 ESC Specifications 
Con. Current: 40A
Burst Current: 45A 
Input Voltage: 2-6S
Support: DShot300/600
Current Sensor: YES
BEC Output: NO
Size: 42x42x4mm
Mounting Hole: 20x20mm ( M3)
Motor Specifications
Kv: 2750Kv
Input Voltage: 4-6S
Stator diameter: 14mm
Stator height: 4mm
Bearings: NSK
Wire Length: 24AWG 150mm
Shaft size: 1.5mm
Mounting Screw Pattern: 12x12 mm
Weight: 8.7g
VTX Specifications
Communication Frequency: 5.725-5.850GHz

Transmitter Power(EIRP):  FCC<30dBm;CE:<14dBm;SRRC:<20dBm;

MIC:<25dBm

1/O Interface: JST1.0x4(Power in)JST0.8x6(USB)

Mounting Holes: 25.5x25.5mm; 20x20mm

Dimensions: 33.5x33.5x10.5mm

Storage: 8G

Recording: 1080p/720p

Weight: 17.6g

Operating Temperature: -20-40℃

Channels: 8

Wide Power Input: 6V-25.2V

Supported FC System: Betaflight; Inav; Fettec; ArduPilot; Kiss

OSD: Canvas mode

Latency Average delay: 22ms

Antenna Connector: U.FL
Camera Specifications
Model Avatar: V2 camera
Image Sensor: 1/3.2-Inch 4Mp 4:3sensor
Resolution: 1080P/60fps; 720P/100fps; 720P/60fps;1080P/120fps compatibility; 1080P/100fps compatibility
Ratio: 4:3 native /16:9
Lens: 2.1mm
FOV: 160°

Aperture: F2.0

Shutter: Rolling shutter

Min.Illumination: 0.001Lux

Weight: 7.2g

Dimensions: 19x19x22mm

Coaxial Cable: 140mm
Prop Specifications
Diameter: 4"
Pitch: 2.4"
Blades: 2
Material: Polycarbonate
Disk Diameter:

 

102.33mm

Max Prop Width: 13.38mm

Hub Thickness:

 

5.5mm

Shaft Hole:

 

1.5mm

Weight: 1.61g
Antenna Specifications 
Gain: 2.2dBi 

Axial ratio: 1.0 Around

Band Width: 

5.6Ghz – 6.2GHz 

Axial Ratio: Around 1.0
Polarization: LHCP

Connector: UFL

Weight: 1.6g 
Include
1x Flywoo BNF Explorer LR 4" Deadcat HD 4S Quad w/ Walksnail Avatar V2 & Avatar Micro Cam V2 - Choose Your Receiver
1x Hardware Kit
8x Gemfan 4024-Bi Blade Balck
2x Battery strap 15x180mm
1x Set of screws