BetaFPV 7.6V 2S 450mAh 30C LiHV Whoop/Micro Battery 2 Pack - BT3.0
Original price
$19.89
-
Original price
$19.89
In Stock
Pre Order
Coming Soon
The BETAFPV BT3.0 450mAh 2S battery boasts a highly integrated, all-in-one design that eliminates the need for a cumbersome balance head connector. This plug-and-play feature ensures ease of use and convenient installation, thereby streamlining and enhancing the overall design of 2S drones. This not only helps beginners get 2S drones quickly and enjoy the thrill of flying but also meets the exacting standards of professional pilots for drone assembly, allowing them to exert greater control and flexibility in flight.

Check out all our 2S batteries and all our BetaFPV gear
Features
The elimination of a balance head connector in the 2S battery guarantees effortless charging and installation.
The 2S battery's highly integrated design prevents any exposure of wiring or battery, 

enhancing safety and power stability.

The BT3.0 connectors and minimalist design of this 2S battery enable a streamlined design for the 2S quadcopter.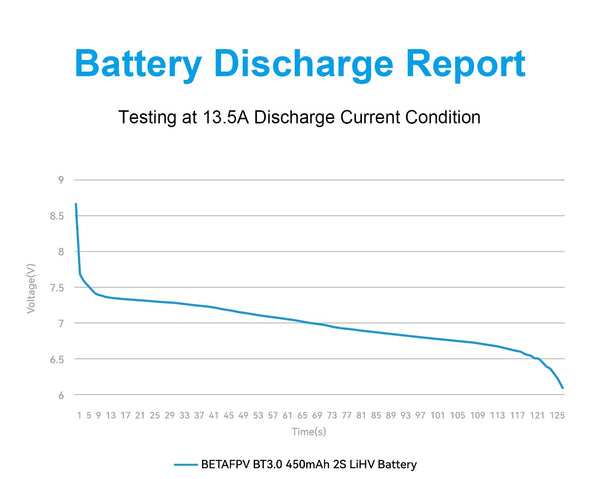 Usage Notes
Battery thickness is between 13.1-13.6mm, suitable for use with the Pavo Pico Brushless Whoop Quadcopter and Cetus X Brushless Quadcopter.
To charge this battery, you will need a BT3.0 2S Battery Charger.
To fully charge this high-voltage battery, a regular voltage charger will not suffice.
Charging this battery to full capacity takes approximately 20 minutes using a BT3.0 2S Battery Charger.
Specifications
Battery Connector: BT3.0 

Connector

Battery Capacity: 450mAh
Battery Type: 2S HV Lithium Battery
Rated Voltage: 7.6V
Fully Charged Voltage: 8.7V
Discharge Rate: 30C
Discharge Power: 3.42Wh
Battery Weight: 27±0.5g
Battery Size: 67x17.5x15mm / 67x16x13.3mm(Installation Size)
Color: Black
Surface Treatment: Labeling and Heat Shrink Tubing
Battery Discharge Curve: 
Includes
1x BetaFPV 7.6V 2S 450mAh 30C LiHV Whoop/Micro Battery 2 Pack - BT3.0