Flywoo GOKU Versatile F405 1-2S AIO Whoop/Toothpick Flight Controller (w/12A 8Bit 4in1 ESC & 400mW VTX) - ELRS 2.4GHz
Original price
$98.99
-
Original price
$98.99
In Stock
Pre Order
Coming Soon
Flywoo introduces a remarkable, highly integrated AlO product, the GOKU Versatile F405 1-2S, 12A 5-in-1, 400mw AlO with Built-in ELRS 2.4G. Featuring the world's first STM32F405 BGA chip. It provides 5 UART serial ports for seamless device/module connection & 12C compass input. A 12A 4-in-1 ESC, fully-integrated serial ports-controlled ELRS receiver and a built-in 400mw VTX make it perfect for Tiny Whoop races or Toothpick freestyle flying. 
Look at our other Whoop/AIO Flight Controllers, as well as the rest of our Flywoo selection.
Features
F405 BGA chip utilizes the powerful for enhanced computational processing power and a smaller form factor
Features an onboard 12A 4-in-1 ESC
Equipped with 5 UART serial ports for effortless connectivity with various devices and modules.
Supports 12C compass input, providing accurate navigation and positioning capabilities ExpressLRS 2.4G· Built-in receiver (UART) with a lightweight design, convenient for WiFi upgrades.
Built-in 400mw 5.8G video transmitter for an extended signal transmission range Built-in 8MB black box storage for easy access to flight status data.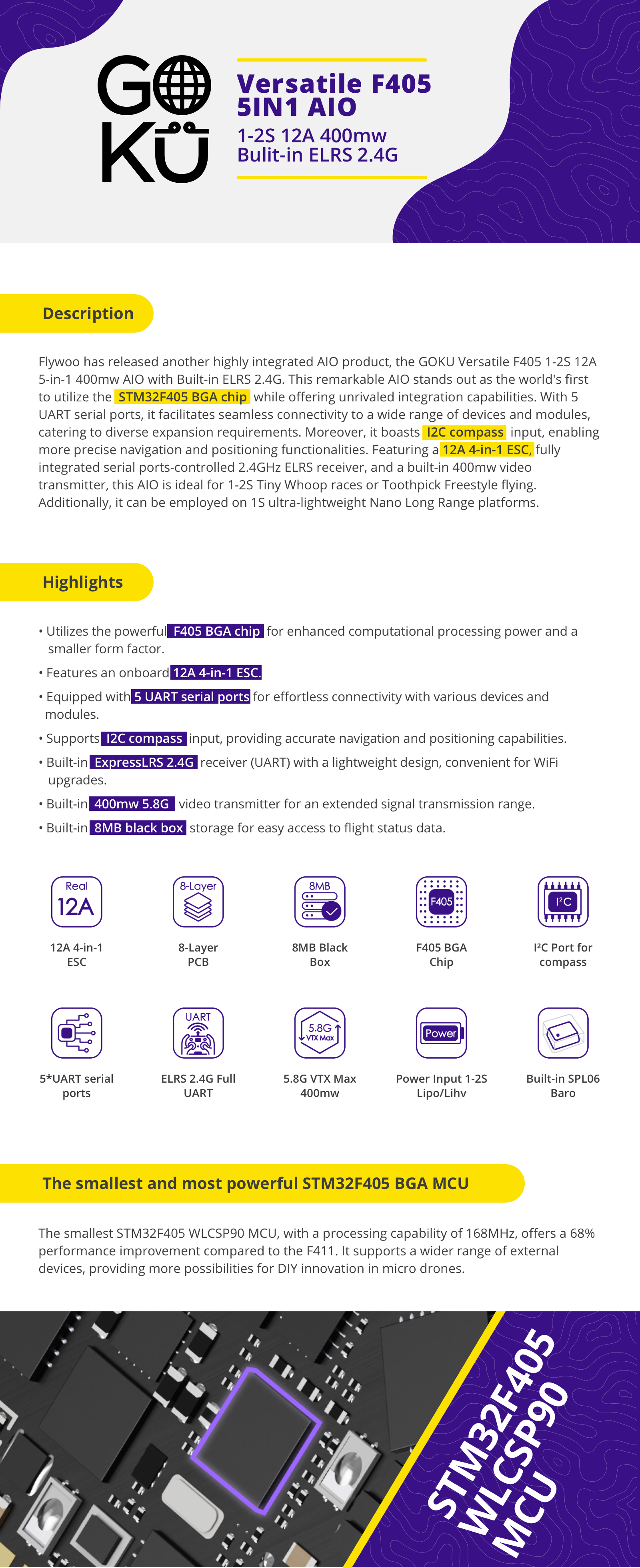 Specifications
Product Name:  Versatile F405 5IN1 AIO
MCU: STM32F405 BGA
Gyro: ICM42688 
Barometer: SPL06 
Black Box: 8M
LED: Supported 
OSD: Supported
Buzzer: Supported
UART: 1, 2, 3, 4, 6
Built-in Receiver: ExpressLRS 2.4G
Built-in VTX: 25/50/100/200/400mw
VTX Protocol: IRC Tramp
ESC Protocol : Oneshot125, Oneshot42, Multishot, Dshot150, Dshot300, Dshot600
Continuous Current: 12Ax4
Input Voltage: 15-25 (3V-8.7V)
BF Firmware: FLYWOO F405S AIO
Target ELRS Firmware: Flywoo EL24E 2400 RX 3.0.0
ESC Firmware : Z.H_30_REV16.7(BLHELI.S)
Size: 30.3x30.3mm
Mounting: 25.5x25.5-3mm
Weight: 4.6g (Without Antenna), 5.7g (With Antenna)  
Includes

1x Flywoo GOKU Versatile F405 1-2S AIO Whoop/Toothpick Flight Controller (w/12A 8Bit 4in1 ESC & 400mW VTX) - ELRS 2.4GHz