ISDT P20 1000W 40A 1-8S Dual Channel DC Smart Charger - Black
Original price
$139.99
-
Original price
$139.99
In Stock
Pre Order
Coming Soon
The ISDT P20 500Wx2 Charger is the perfect middle-ground between small and large chargers. Dual channels support up to 1000W of output, 20A per channel, or 35A synchronized charging. It's engineered to be lightweight and is cooled by an advanced air convection design, with a solid magnesium alloy shell. 
Check out all our chargers & charging accessories, as well as our ISDT selection!
Features
High Power DC lipo charger: Independent dual channel, synchronous parallel charging, charging current: 20AX2, Max. charging power: 500WX2, 800W parallel charging, Input current: 35A, advanced crafty cooling air duct for high-efficiency heating dissipation.

ISDT P20 Lipo charger with Smart Display: 6S lipo charger with a full-color LCD, touch panel will indicate the whole charging process for batteries, with a large screen display can show voltage, current, charging time, mode, battery type, internal resistance, and battery capacity that charged, easy setup and manual operation modes.

ISDT Charger & Multiple Functions: The P20 lipo balance charger passed US safety certification and comes with Li-ion and Lipo balancing, fast charging, data storage, cyclic charging, and discharging function. After fully charged, it will automatically stop charging.

Various battery type compatibility: RC car battery charger, All-in-one control for LiFe, LiIon, LiPo 1-8S, LiHv 1-7S, Pb 1-12S, NiMH/Cd 1-16 RC car /vehicle/plane/drone batteries, automatic battery type identification with intelligent charge algorithm matching,rc lipo charger with balance. (No power cord!)

Multi-Application: Aluminium alloy shell with good hand feel and nice appearance, our hobby charger can be widely used in RC drone/rc plane/rc ship/RC vehicle, portable devices, remote control car etc. Auto adjustment feature on charging parameters and auto safety shut-off for best charging performance. To help extend battery life with more reasonable.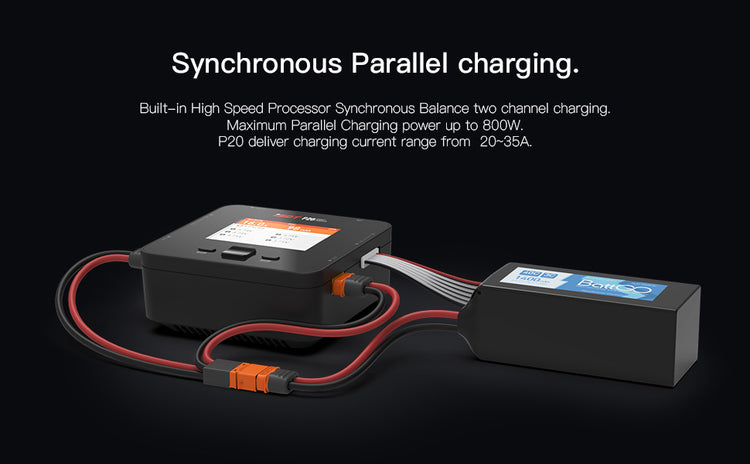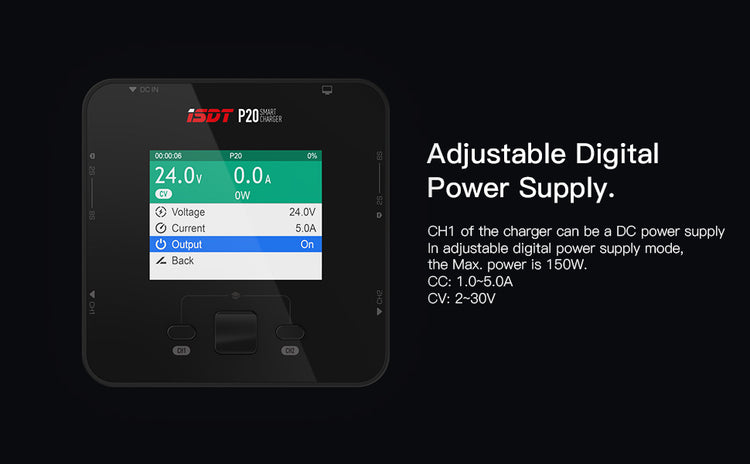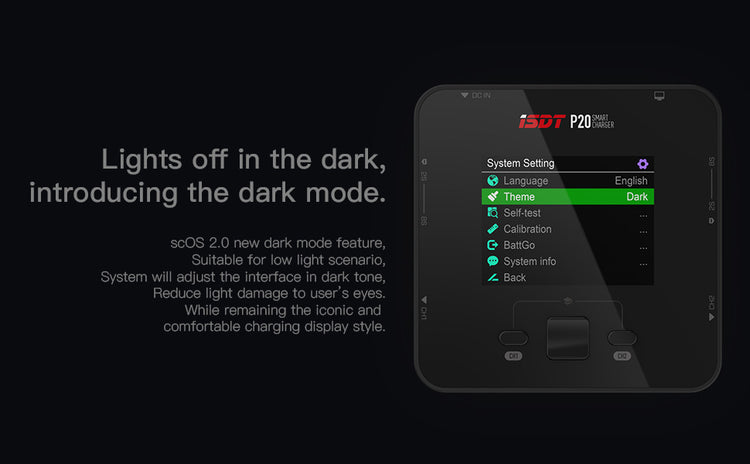 Specification
Input voltage DC 10~34V

Output voltage DC 1~34V

Max. input current 35A

Charging current 0.2~20.0A x2

Max. charging power 500W x2

Balance current 1.5A/Cell Max

Discharging current 0.2~1.5A x2

Max. discharging power 15W x2

Abnormal voltage alarm Support

Incorrect cell count setting alarm Support

Supported battery types and cell count LiFe, LiIon, LiPo 1-8S ; LiHv 1-7S ;

Pb 1-12S ; NiMH/Cd 1-16S

Parallel charging power and current 800W/35A

Parallel discharge power and current 30W/3A

Input anti-reverse function support

Output anti-reverse function support

Input anti-spark function support

Output anti-spark function support

Working temperature 0~40℃

Storage temperature -20℃~60℃

Dimension 105x105x47mm

Weight About 350g
Includes
1x ISDT P20 1000W 1-8S 40A Dual Channel DC Smart Charger - Black