Fractal Engineering Fractal 65 Micro/Whoop Frame Kit - Choose Your Version
Original price
$19.99
-
Original price
$23.99
In Stock
Pre Order
Coming Soon
Are you a whoop racer seeking the best performance with no reliability sacrifice? An FPV pilot wanting a solid frame with fast maintenance? Or after a tough frame to keep you airborne, instead of flimsy nylon frames?  If you answer yes to any of those, then the Fractal 65 was designed for you! This kit contains all you need to construct your craft - it's compatible with most parts and has a 25.5x25.5mm mount for the AIO and motor mounts for 3xM1.4x6.6mm and 3xM1.6x5.5. 
Choose between getting the Fractal 65 Whoop Micro Frame Lite Kit, which does not come with ducts, or grab a combo of the Fractal 65 Whoop Micro Frame kit and HappyModel Mobula6 Whoop frame. 
Note: You're gonna want to cut ducts from either an NBD, BetaFPV, or Happymodel 65mm whoop frame, and that will serve as your protection for your motor and propellers. This also allows you to replace a single duct where-as standard whoop frames need to be fully replaced when a single duct breaks.
Check out our other Micro frames, and our Fractal Engineering Products!
Features
65mm diagonal, squished X geometry, for 31mm props
1.5mm Carbon Fiber / Individual Nylon ducts hybrid construction
Low-profile camera mount, no props in view, no tilt offset
Low Center of gravity, by bringing the AIO closer to the frame/motors
Allows mounting with USB pointing up for easy accelerometer calibration
No need for a canopy as all electronics are tucked safely between the ducts
Maximum rigidity where it matters most; connecting the motors to the FC
Easy maintenance, break one duct, replace only the single duct
Recommended Part List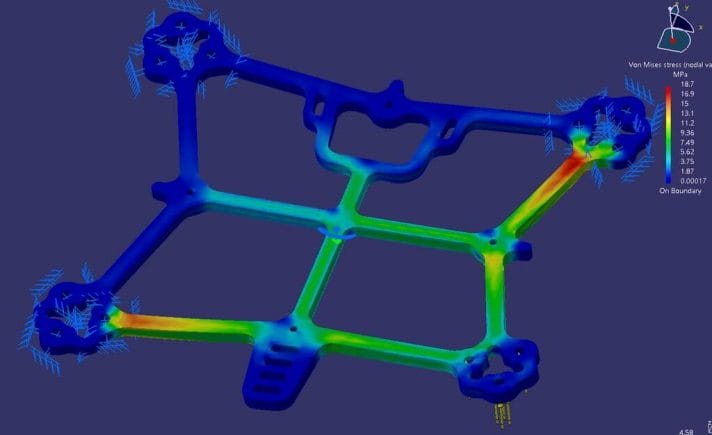 FEA optimization test preformed ensuring the stress gets spread out across the whole structure without concentrations

Specifications
CF Weight: 1.6g

Motor Bolt Pattern: 6mm Tri-Mount & 5.5mm Tri-Mount

Stack Size: 25x25mm
 Includes
1x Fractal Engineering Fractal 65 Micro Frame Kit - Choose Your Version